Keep your floors clean and durable with epoxy floor coatings.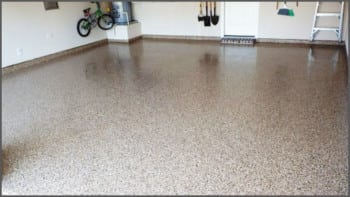 Do you dream of all the improvements that you can make to your home? Do you have pages of ideas and visions of what your home could look like if only you could make a few tweaks and adjustments? Here at Prep-Rite Painting, we understand how a few materials and a few hours can make a world of difference when it comes to transforming your dreams into reality. One of the ways we help out our customers in creating an improved and durable surface to their Cary, North Carolina home is with epoxy floor coatings.
Epoxy floor coatings are made of durable materials such as resin and plastics. When these materials are applied to a surface, usually concrete, they bond with the surface and create a hardened and durable material. Epoxy floor coatings can be applied to all sorts of areas such as garages, interior concrete floors, patios and heavily used walkways. Because epoxy floor coatings are extremely durable, tough, and resistant to staining and chipping, they're great solutions for these heavily used areas. You'll be able to spray down any dirt and grime for quick and easy cleaning. Additionally, you can customize the color and texture of your epoxy floor coating to go with any home's décor or color scheme.
If you're ready to add the cleaning ease and durability of epoxy floor coatings to your home, you'll want to call our expert team here at Prep-Rite Painting. With our nearly two decades of experience, you can feel confident that your floors will not only look great, but the coating will also be applied with the efficient precision of experts. Contact us today for more information about our epoxy floor coatings today!
---
At Prep-Rite Painting, we offer epoxy floor coating services in Apex, Cary, Holly Springs, Fuquay Varina, Chapel Hill, and Raleigh North Carolina.