Spring is the time for rebirth and starting anew. As nature comes back to life, add some life to your home and bring about some change through a few easy home improvements! It's amazing what changing your environment can do for your mood. Here are a few suggestions to get your mind thinking about ways to add some beauty to your home:
1. Paint your kitchen cabinets
Need a change in the kitchen? Redoing a kitchen is expensive, but you can easily change up the look by painting your kitchen cabinets. Having a bright cheery kitchen while brewing your morning coffee can get your day off to the right start.
2. Restain your deck
Get your backyard ready for the summer! It's just now getting warm enough to sit outside and enjoy the fresh air. Restaining your deck can put the life back into the wood and provide the perfect setting for your summer backyard parties. Our semi-transparent stains, toners, solid stains, and timber oils protect and beautify the wood. Got a fence? We stain those, too!
3. Pick up a rustic headboard
Head over to the Garden Center at the Raleigh State Farmers Market and pick up a cool old barn door or window for a new headboard. A headboard is often the focal point of a bedroom, so make it a statement piece! And while you are there…support your local farmers and pick up some plants for your garden or some vegetable for your dinner.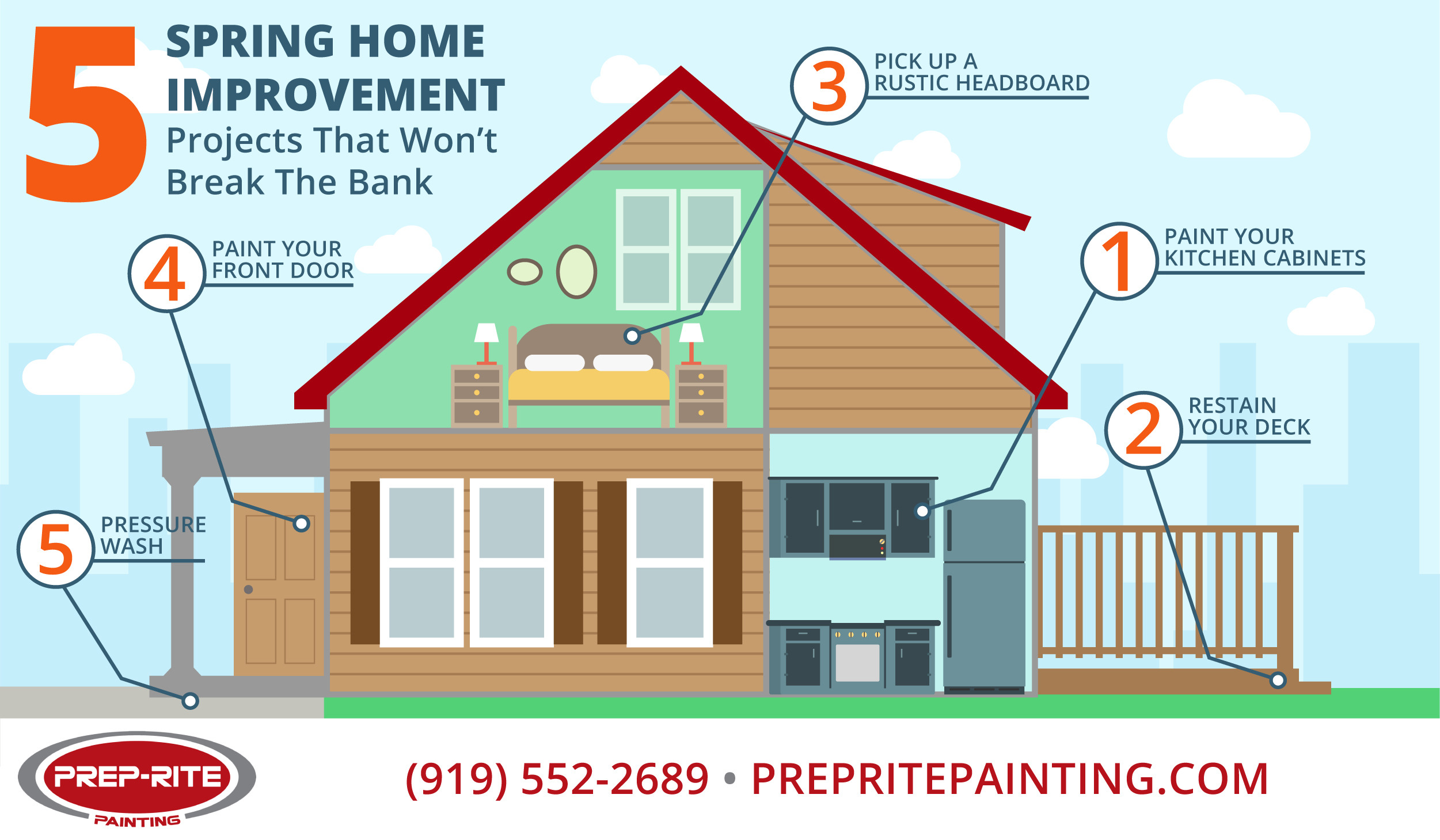 4. Paint your front door
Doors are functional, but there is no reason to stop at that. Don't overlook your front door as a place to add some personality. A color pop on your front door can change the look of your home and be a welcoming sign to your guests. Painting a door is something you can do on your own, or give us a call and we'll take care of it for you.
Is your patio looking a little stained and dull? Your driveway? Your sidewalk? There's no reason to replace them if they are still in good condition. All they need is a quick power-shower to remove the dirt and staining from the wear and tear of the outdoors. Prep-Rite Painting offers pressure washing and you can trust us to make sure your landscaping, outdoor furniture, and everything else in proximity are protected and avoided.
Make some changes and spruce up your home this season!
Contact us at (919) 552-2689 if there is anything we can help you with.
We wish you a wonderful Spring!