We can transform your Raleigh kitchen with cabinet painting that saves you money and time over a remodeling project.
If you are looking to transform the traditional-style cabinetry in your Raleigh, North Carolina home to something more modern and contemporary, you might think your only option is a full kitchen remodeling project. If the cost and the time without the use of your kitchen are keeping you from going that route, consider the cabinet painting services offered by our team at Prep-Rite Painting.
Our interior cabinet team is very meticulous when it comes to painting cabinetry. Instead of a project that can take weeks, this is just a 5-7 day process. We use your garage as a work area, surrounding it with plastic sheeting. The kitchen is also encased in plastic to ensure the protection of the surrounding areas. All floors and surfaces will be covered and protected.
We utilize a combination of spraying and brushing for professional cabinet painting results. All doors and drawers are removed, labeled and reinstalled upon completion. Prior to painting, the cabinets are cleaned with denatured alcohol to rid them of any grease buildup. If replacing the existing hardware, the holes will be filled and sanded prior to painting. The cabinets will then be sanded, primed and painted with two self-leveling, oil-based topcoats. Sanding will be done between each primer and topcoat of paint. Both sides of doors and drawers will be painted. The interiors of the cabinets are not painted unless you request this additional service.
The bottom line is that cabinet painting is far quicker and less costly than renovating your kitchen, and our affordable and competitive pricing makes it even better. We use only the most environmentally friendly, quality products, so you get lasting results. Contact us today for an estimate for cabinet painting or any of our other home services.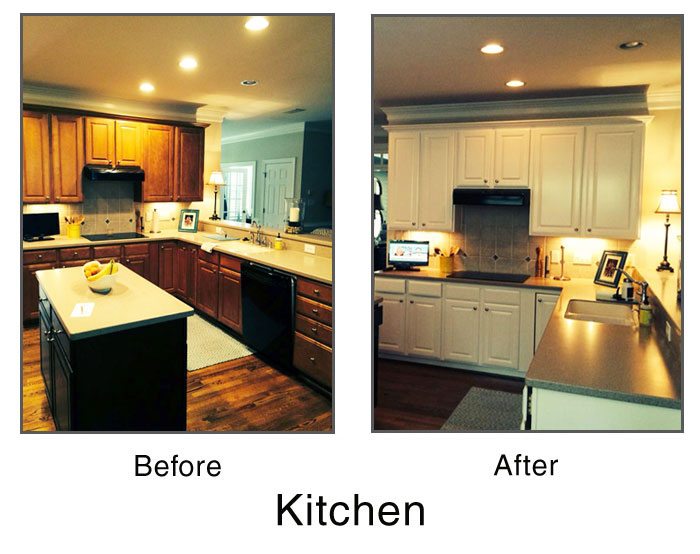 ---
At Prep-Rite Painting, we offer cabinet painting services in Apex, Cary, Holly Springs, Fuquay Varina, Chapel Hill, and Raleigh North Carolina.